I Was Let Go From WishList Products After 12 years!
Technically, I worked for WishList Member or as it was called WishList Products for 12 years and 9 months.
(Original article from October 2022 and a bit updated.)
Yep! Crazy stuff!
I just posted last week that I Wiped Out All My Content After 12 Years. Now, my career with WishList Member is also wiped out.
In the Winter of 2009 I had been out of work for a while and was financially struggling a lot.
One evening I had ran out into the snow without shoes to yell at God about the mess I was in and that I could not take it any more. I was done and He had to help me get out of it or I didn't know how I'd take care of my little ones.
As I was sobbing a hummingbird appeared and just hovered right in front of my face.
I heard God say, "This is you sign of hope from Me. From now on whenever you feel hopeless or in need you'll see a hummingbird and Know I Am Here. I will never leave you nor forsake you or your children."
Ever since then I've always seen a hummingbird or multiple ones when I've needed a little 'love note' from God. He provided food boxes, money from people at church, odd jobs to keep me going and then in February of 2010 a full-time job.
I was interviewed by Stu McLaren the co-founder and co-owner of WishList Products. It was an upbeat and fun interview and I ended up landing the position.
I worked with Stu for four years before he decided to leave. He sure has made a splash in the online entrepreneurial world, especially in membership sites niche.
I'd been hired to help with support tickets and to write articles with the ability to move up in the company.
I started in the Support Department and I wrote articles for four years. I hadn't had a vacation for the first four years. This was probably due to the company and product being so new.
I wanted to hang in there because the people I worked with are amazing. Honestly, I have never worked with people that meshed so well.
I was working full-time from home and that was my goal.
I hung in there over the years…
It started getting really depressing though as I'd ask the Support Manager here and there to help with this project or that one and I was always denied.
That was sad because I was more than qualified to do those tasks.
I was, although, able to go to an event WishList Products held in 2012 in New York City.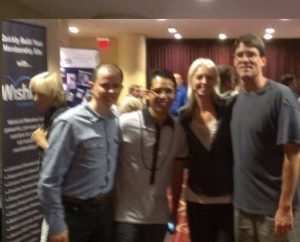 Tracy Childers, Mike Lopez, Me (Bobbi) and my husband, John
That was really fun. We missed seeing the Statue of Liberty though. I was so sad about that. What a bummer. LOL!
We did visit Ground Zero though. What somber feeling that was still there. We will never forget. It's so sad that so many have.
Yet, I hung in there. When I believe in something as I believe in the product, WishList Member, and the people that worked with me, I hadn't been inclined to give up. I wanted to stay and grow in the company.
Years and years past me by and I was still in support tickets.
I didn't mind helping people. I actually loved it, but it was all handled in an online support platform with no real interaction such as talking with folks. It was all handled in writing.
Again, I didn't even mind that. It was the lack of variety and no variety over 12 years about killed me.
My health started going downhill badly. I went from being very joyful, full of energy and very active to hurting all over my body, aching everywhere, and not being able to move.
I started feeling depressed with my situation.
That combination left me with very few options.
I prayed and prayed for a change.
In 2022, I was finally able to find doctors who listened and have done the right testing. So, now I know I have Rheumatoid Arthritis and another health issue. I was on a nerve medication that is given to people with seizures, but it helps with all over joint and tendon pain and aches. I actually took myself off of it though. More on that later.
Then in May of 2022 my boss, Tracy Childers, sold WishList Products to Micah Mitchell who is the owner of Memberium and Membershipper.
The Acquisition Began
We were all apprehensive at first, but we were all assured that we were one of the best teams that he's seen and he had no intension of getting rid of any of us.
That calmed our fears and we all carried on.
In fact, the changes seems to be extremely refreshing and truly engaging.
We started having team meetings and daily company-wide team huddles. We were all brought into the mix of what was changing in the WishList Member plugin, we were asked for our opinions and insights and I loved all of it.
I was asked to create the Onboarding Videos for new members. I created, edited and published them.
You can find my trainings at Build Your Membership Business on the WishList Member website.
The Marketing Director asked me to join the Marketing team after I had mentioned how much I loved variety and marketing and how much I had wanted a change from Support.
Just before it happened I was working on several new projects that the Marketing team was behind on and I finally felt a part of something amazing.
I Got a 15% RAISE after 12+ years!
Life was looking up. This was all I had been praying for and I truly loved it.
Then one fateful day on October 10th, 2022, Micah messaged me in our team's Slack channel. He then got me on the phone and Tracy joined us.
Very simply he said, "I don't know any easy way of saying this. We need to let you go." Those oh so dreaded words rang through my head.
We Need To Let You Go
I took a deep breath and said, "Okay."
He went on to say that he really enjoyed my constant positive attitude and that I'm a great fit in their culture and that I have great skills, but they just don't have a place for me.
I was thinking to myself, "You don't have a place for me? Wait? What?"
I was literally just started working on projects that needed done, plus I was still in Support. Jasmine, the gal brought in for Social Media, and I got together with the video editor. We planned out our tasks for the next 90 days.
Until then I was unsure of what else I could be doing, but we had it all solidified and planned out. Way too late apparently though.
They only had two other front-line support people in there and when it was busy it was hard to keep up with the tickets as it was. I didn't say anything about that.
Begging or complaining to a lost cause isn't my thing.
After 12+ years of being loyal to the company I was let go, without any warning at 56 years of age, after being told by both Micah and Ben, the Marketing Director, that they had no plans of getting rid of me and that I was a great team member.
Although, they did give me an extra month's pay for my severance package. Thank goodness for that.
Micah said that he really felt bad, but they had planned this for a few weeks. He asked if there was anything they could do.
I was thinking to myself, "Ya! Let me work until I can find something else."
I had literally told everyone I talked to if there was ever a decision to let me go to just give me fair warning so I could start planning for it. I'd never do anything against the company. Everyone I talked to said they would. Yet, that thought remained in my head…
"Yes, I'd love it if you and Tracy would give me some coaching." I said, as I was snacking on my humble pie.
So, the conversation ended on a positive note. I didn't want to end things in any kind of a negative way. Both Micah and Tracy agreed to give me individual coaching sessions.
They both told me what a valuable and positive team member I had been, how they and everyone would miss me, and that they would both write me letters of recommendation. I've received Micah's and am still waiting for Tracy's.
I got off the phone and just sat there for a few moments. It was like someone hit me in the gut and I could breathe. All I could think was, "Lord God, how am I going to make the house payment?"
The tears began flowing… This was truly devastated. I was scared. I knew I needed to Let Go and Let God, but was it going to be that simple?
The tears finally stopped, I dried my face, took some deep breaths and decided that was the last time I cried over this.
Now, it was time to let my family know of our new found situation.
If you'd like to stay up-to-date on my journey be sure to Like, Comment, Follow and Subscribe.
I'm sure there will be lots more to come. 🙂
~ Bobbi